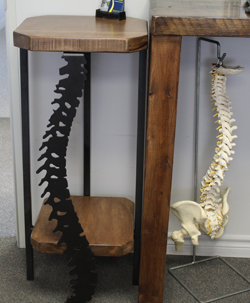 Reviews for Wihlidal Family Chiropractic
What Our Patients Say . . .
What others say about chiropractic care can help you make the right health care choice.
Review a selection of Wihlidal Family Chiropractic patient testimonials below and, if you have any questions, please call our office at (705) 325-6425or send us an email.
---
I Believe I Can Be Helped
I am so happy I made the call to book my first appointment. I was nervous about going but I know now I made the right decision. Everyone has been so kind and helpful. Best of all I believe I can be helped to relieve my pain.
-Nancy B.
Very Impressed
I am very impressed with Dr. Wihlidal's thoroughness. From my first consultation/assessment and throughout my current treatments, he continues to maintain comprehensive records and provides regular feedback and ongoing advice that is very helpful with my progress. Thank you Dr. Wihlidal and to your excellent office assistants as well.

Thomas M.
Super Pleased
I have been super pleased with my experience Michelle/Marlene are great and more then accommodating if I need to change anything. Dr. Whitney is great as well.
– Joanne H.
Fantastic!
Michelle and Whit are fantastic! 10/10 and lots of recommendations coming your way.

Jeremy M.
Very informative
Very happy I was referred. I had a lot of problems that I did not realize were so severe. Dr. Wihlidal was very informative and new exactly what do. Thank you!
– Denise G.
Feels like home
Dr. Whitney found a problem I had in my neck that I never knew was there and I have been going to another chiro office for about 10yrs where I used to live and they never bothered to look into it further. Dr. Whitney took the time to get X-rays to see what was really there first before moving into adjustments. I just love coming to the office I have 2 young kids and it feels like home. They have welcomed us with open arms!

Marie F.
Awesome work!
Thank you for helping me to stay employed and although I am only able to come in when I can afford to, you have been instrumental in my maintaining a positive outlook in my life as well as work. Keep up the awesome work you share! Without you I am sure many people would feel off centred! Thank you Dr. Whilidal.
– Lori
So friendly
Your office is so friendly. Patients arrive with enthusiasm and obviously trust. Sheila is a warm, efficient, respectful guide to the process needed in beginning service in your care. If you didn't know you were in a chiropractor's office, you would think we were at a community. picnic! Nice place to visit but one day do so only occasionally. By the way, as I arrived and you were checking info out at the office, your casual greeting, handshake, and demeanor led to a pleasant anticipation of a helpful visit. Thanks for that!

Barbara D.
Very well treated
I was very well treated and fully explained everything that was wrong with me. I was in a lot of pain when I first phoned and was seen first thing next morning.
– Jackie
What a difference
Thank you! I thought my back was done for good – for the first time in over 5 years, the muscles in my upper back have finally started to ease up with each adjustment. My tennis/golf elbow is finally feeling like I might actually be able to use my arm again. Fantastic! I had no idea the difference the adjustments would make and Dr. Whitney knows exactly what to do and how to do it! Thank you Thank you!

Paul C.
---
Wihlidal Family Chiropractic | (705) 325-6425