Custom Orthotics at Wihlidal Family Chiropractic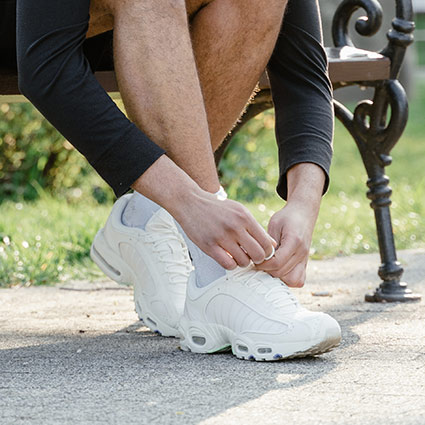 Custom orthotics are another option we offer our clients to help with various issues. As part of our assessment process, our doctor will evaluate whether your specific arch, heel, lower leg, knee or hip issues would benefit from an orthotic.
Orthotics may also provide helpful support for those who spend considerable time on their feet, or on hard floors, such as concrete or hardwood. These custom shoe inserts help take the stress off joints and muscles of the lower limbs.
A Quick and Easy Process
The process of casting for orthotics is quick and easy. Once a detailed gait assessment is done, we take an impression of each foot in a foam block. This foam impression is sent to lab facility, where your inserts are produced according to our specifications.
When we get them back in the office, we fit you & if necessary, modify them so they're comfortable and work for you. A properly made pair of orthotics shouldn't hurt, and they generally adapt to fit in any type of footwear.
Extensive Experience for the Best Result
We recognize that some people have had negative experiences with orthotics in the past. This is often due to improper materials being used, or a poor-quality casting technique. This often results in the insole being hard and unforgiving. With over 30 years of experience with orthotic casting, Dr. Whitney takes pride in making sure that you won't have that problem here.
If you have extended health benefits, most plans cover some, or all, of the cost. We have a finely tuned process to assist you in submitted for coverage through your health benefits plan.
How They Help
We get referrals from local foot clinics, physiotherapists, and more to do postural assessments. In many cases, orthotics have been part of a plan to help make a significant difference. Some conditions orthotics have proven beneficial for include:
Foot pain
Knee complaints
Hip pain
Low back pain
Postural issues
Poor foot mechanics
And more
Kinesiology and Chiropractic
As an undergrad, Dr. Whitney majored in kinesiology, and learned a lot about gait and gait assessment, and started making orthotics in the foot clinic there. When he was exposed to chiropractic care, it was only natural to combine the two, since they work so well together. Orthotics give you a base that helps hold your adjustments, and helps you achieve better comfort and function from the ground up.
Learn More
Call our practice today to learn more about custom orthotics and what they might do for you.
CONTACT US
---
Custom Orthotics Orillia ON | (705) 325-6425